Leatherette Money Clipper and Belt
Cotton Hankerchief
Pack Contents : Money Clipper, Belt and Kerchief!
Carry your monetary belongings systematically in this stylish money clipper
A stylish belt to go with your formal outfits
An instant outfit updater that will lend a refined finish to your ensemble
Kerchiefs colour may vary as per the availability!
Steps to Redeem
Click on get the deal button to add this product to your shopping cart.
Click on the Proceed to pay button & enter your email id example@yahoo.com. Fill in other details.
On payment page, enter TRADHA as Gift Voucher Code and Click on Redeem button.
The subtotal on the payment selection page will not change, but a message will be displayed confirming the discount, rest assured that your coupon has been accepted successfully and you will be charged only the discounted price.
Now pay using Credit card / Debit Card or Net banking.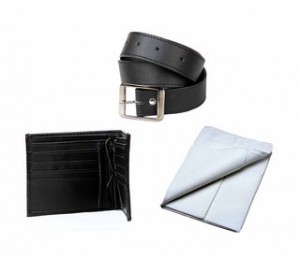 Buy from :
http://www.tradus.com/tradha-combo-men-s-wallet-belt-kerchief/d/1116