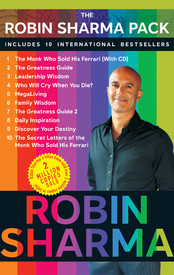 This Box Set Includes These Titles:
1.) Volume – 1 The Monk Who Sold His Ferrari (With CD)
COLLECTOR'S EDITION WITH AUDIOBOOK READ BY THE AUTHOR
A FABLE ABOUT FULFILLING YOUR DREAMS AND REACHING YOUR DESTINY
This inspiring tale provides a step-by-step approach to living with greater courage, balance, abundance, and joy. A wonderfully crafted fable, The Monk Who Sold His Ferrari tells the extraordinary story of Julian Mantle, a lawyer forced to confront the spiritual crisis of his out-of-balance life.
2.) Volume – 2 The Greatness Guide
ONE OF THE WORLD'S TOP SUCCESS COACHES SHARES HIS SECRETS FOR PERSONAL AND BUSINESS MASTERY
Passionate, inspiring, provocative and full of big ideas that will help you meet your highest potential and live an extraordinary life. You will receive uncommon advice that will uplift, energize and move you to action.
3.) Volume – 3 Leadership Wisdom
THE 8 RITUALS OF VISIONARY LEADERS
In this eagerly awaited sequel to the phenomenal national bestseller The Monk Who Sold His Ferrari, leadership guru and renowned professional speaker Robin Sharma shares a remarkable step-by-step system that will restore trust, commitment and spirit within your organization while transforming the way you lead your life.
4.) Volume – 4 Who Will Cry When You Die?
101 SIMPLE SOLUTIONS TO LIFE'S MOST COMPLEX PROBLEMS Robin Sharma offers 101 simple solutions to life's most complex problems, ranging from a little-known method to beat stress and worry to a powerful way to enjoy the journey while you create a legacy that lasts.
5.) Volume – 5 MegaLiving: 30 Days To A Perfect Life
From leading CEOs, elite athletes and wildly successful entrepreneurs in the West to learned philosophers and wise sages living high in the Himalayan mountains of the East, Robin Sharma searched for peak performers who had created lives filled with prosperity, passion and peace. This extraordinary book reveals their secrets.
6.) Volume – 6 Family Wisdom
NURTURING THE LEADER WITHIN YOUR CHILD In the pages of this remarkable book, acclaimed author of the worldwide publishing sensation The Monk Who Sold His Ferrari and internationally renowned leadership guru Robin Sharma reveals a simple yet strikingly effective system that shows you how to liberate that natural leadership potential of your child while creating a richer, more rewarding life for yourself in the process.
7.) Volume – 7 The Greatness Guide 2
101 WAYS TO REACH THE NEXT LEVEL Robin Sharma shares the remarkable insights and tools that have made him one of the world's most trusted advisers on leadership and personal success. Compelling, engaging and truly unforgettable, this powerful guide will help you get to world class at work and in life.
8.) Volume – 8 Daily Inspiration
REALIZING YOUR GREATEST POTENTIAL AND DISCOVERING REAL SUCCESS In this book Robin Sharma distills the most powerful ideas from his #1 international bestseller The Monk Who Sold His Ferrari, as well as from each of the books in the series that followed, into an easy-to-read perpetual calendar format designed to make each one of your days extraordinary.
9.) Volume – 9 Discover Your Destiny A BLUEPRINT FOR LIVING YOUR BEST LIFE
Like the other bestselling books that fueled the worldwide Monk Who Sold His Ferrari phenomenon, Discover Your Destiny is written as a rich and rewarding fable. Readers are introduced to Dar Sanderson, a highly ambitious executive who appears to have it all on the outside but lacks happiness, meaning and inner peace.
10.) Volume – 10 The Secret Letters of the Monk Who Sold His Ferrari
A FABLE ABOUT FULFILLING YOUR DREAMS
AND REACHING YOUR DESTINY From one of the most widely read authors in the world comes a story of breathtaking power and dazzling suspense about what it means to be fully alive.
Special Offer
5 lucky winners will win 'T-shirt and a Mug with Robin Sharma quote printed on it' !
Buy from :
FlipKart
No Coupon Code is required