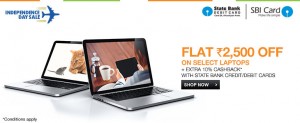 Description
Extra 10% cashback on all transactions of Rs. 10000 & more with State Bank Debit & Credit Cards.
On every product category you will get 10% flat cashback on usage of SBI credit card.


The Validity of the Program ('Term') is from 12th August, 2014 till 18thAugust, 2014(Both days included), unless extended by SBICPSL, Bank and Flipkart Internet Pvt. Ltd by mutual consent in writing.
All SBI Credit Cardholders excluding SBI Corporate Credit Card with no outstanding of more than 30 days and all State Bank Debit Cardholders are covered under this Program. Under this Program, cardholder can avail 10% cash back during the Offer Period on ALL purchases of Rs. 10000/- or more made/effected using SBI Credit and State Bank Debit Card on www.flipkart.com. The maximum cash back permitted/allowed on a card (including all add-on-card transactions in case of SBI Credit Cards) during the Offer Period is Rs. 3000/-.However a customer can avail the offer separately on two different primary cards
Offer would be applicable on all products from ALL SELLERS made available on www.flipkart.com.
Cashback will be posted to your respective card by or before 17th October 2014.
Special Offer

1) Coupon Code :
to avail discount.
2) Offer Valid till 18/08/2014 23:59:59
3) No Extra Shipping Cost
4) Terms and Conditions