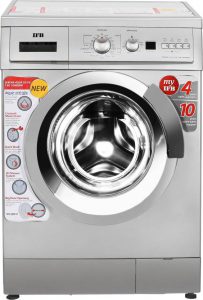 IFB 7 kg at 24990 – Serena Aqua Sx LDT – Lowest Price Flipkart
Description
With this IFB Serena Aqua washing machine, you finally have an appliance which does its job without needing manual interference at every step. It efficiently dissolves detergent, evenly distributes a load of laundry, and dries the machine's drum after a wash. Leave you laundry chores to this machine. You get on with your life.
Fully Automatic Front Load with special settings for best wash quality
1000 rpm : Higher the spin speed, lower the drying time
Stainless Steel
7 kg : Great for a family of 3


We wash clothes to clean them, not destroy them. Helping us wash our clothes effectively but gently is this IFB washing machine. Its air bubble wash system releases tiny bubbles which penetrate deep into your clothes to gently remove dirt and grime. Keeping the appliance protected from damage is the Aque Energie feature which treats hard water and reduces them to crystals so they do not affect the machine's performance.
Special Offer

1) Coupon Code :
to avail discount.
2) Offer Valid till 12/08/2018 00:00:00
3) No Extra Shipping Cost
4) Terms and Conditions